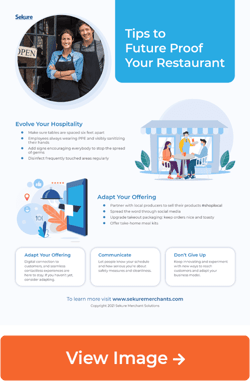 The effects of the pandemic on the retail landscape have been profound—and skewed. Tech companies and streaming services are crushing it, while the travel and restaurant industries are getting crushed. A whopping 100,000 restaurants have closed in the U.S. since March 2020, with a staggering $185 billion in losses.
Things are finally starting to look up, though—case numbers across the U.S. are plummeting, and it looks like the vaccine rollout is having the desired effect. In fact, New York just reinstated indoor dining, albeit at 25% capacity. Business as usual and crowded restaurants, it seems, are a while off yet. In the meantime, restaurants must stay nimble and keep tweaking their approach. Here are a few tips as we move forward.
Prepare to Welcome Back Patrons
Customers are getting ready to return, so start laying the groundwork now. Your number-one priority: make them feel safe. According to a Deloitte survey, 92% of respondents who are eating out less indicated that the main reason was COVID-related health concerns. Your mission: (1) make customers feel safe and at home and (2) show them you are serious about safety.
Some key considerations:
Make sure tables are spaced six feet apart

Ensure that employees are always wearing PPE and visibly using hand sanitizer or washing their hands

Post signs in highly visible areas encouraging employees and customers to stop the spread of germs

Disinfect frequently touched areas regularly and shared objectives like payment terminals, countertops, and receipt trays after each use.
For more ideas, the CDC has some excellent resources for bar and restaurant owners.
Adapt Your Offering
The business model that underpinned your restaurant pre-pandemic has forever changed. The new reality is that you're going to have to shift to new platforms and tactics to drive your business. Many restaurants, for example, have started selling grocery items in-store and online. One possible approach: partner with local producers to sell their products, then spread the word through social media. People are all about supporting local these days, so you should see a positive response.
A few other ways that restaurants have innovated:
Upgrading packaging to keep takeout and delivery orders nice and toasty

Offering take-home meal kits so people can recreate signature dishes at home

Pairing wine with meals or selling pre-package bottles of signature cocktails. This one's a no-brainer, given the tidy margins on alcohol sales, not to mention that many U.S. states have relaxed alcohol regulations

Limiting menus to focus on a few core dishes, while also simplifying prep so staff can plate meals quickly

Selling merch like branded apparel and food items, and even cookbooks
Position Yourself for Future Trends
Trends that took hold during the pandemic—think delivery, digital connection to customers, and seamless contactless experiences—are here to stay. And although restaurants will again see full tables and smiling customers, people have come to appreciate and expect this pandemic-induced convenience. More and more people are using apps (both restaurant apps and third-party delivery apps), while uptake of contactless delivery has been huge. Delivery has become so seamless and convenient that pre-pandemic takeout habits may never return. You need to be ready for that possibility and plan accordingly.
Communicate with Customers
The importance of communicating with your customers cannot be overstated. Leverage your social media channels to let people know that you're open for business and taking health and safety seriously. Indeed, the same Deloitte survey found that 80% of respondents were more likely to eat out if they knew about a restaurant's enhanced cleanliness and food- and guest-safety measures. Something to think about.
Likewise, if you end up modifying your opening hours to keep costs down, make sure you let people know. And try and be consistent—your customers will appreciate it.
Bottom Line
It's going be a while yet until diners flock back to restaurants. And operating at 25% capacity is a tough gig for any restaurant. You'll need to keep innovating and experiment with new ways to reach customers and adapt your business model. Whether you're looking to set up an ecommerce site to add a revenue stream, or simply looking to upgrade your payment processing platform, Sekure is here to help. Drop us a line today and we'll get you on your way.
Further Reading
McKinsey & Company Insights: What's Ahead for US Restaurants