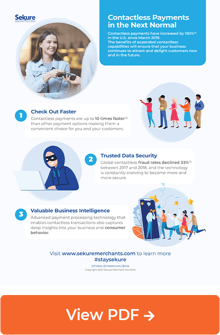 As you have likely noticed, contactless payments are having a moment in the U.S. While consumer trends have been moving from cash to tap for some time, the pandemic has only accelerated the progression. People don't want to handle cash and input PINs (nor do merchants, presumably): they would rather use contactless options—with health and safety as the main drivers.

As for merchants, contactless payments provide a host of benefits that go well beyond health considerations. After vaccines are rolled out, and it's back to business as usual, companies will want to continue enabling contactless capabilities for a number of reasons.
Faster Check Out
We've all been there: patiently waiting in line while the customer at the cashier flips through their wallet in search of that elusive exact change. Not surprisingly, clogged checkout lines are not only bad for customer blood pressure; they're also bad for bottom lines. In fact, contactless payments are up to 10 times faster than other types of payment, not to mention much more convenient.
Accepting contactless payments enhances peoples' shopping experience and allows retailers to process even more transactions. And for businesses, this means less time operating card machines and counting cash.
Customers Expect It
People are now accustomed to using contactless options and will continue adopting such methods post-pandemic. According to a Mastercard study, 74% of people surveyed said they would continue using touchless payments once things are back to "normal." And while older consumers have typically lagged their younger counterparts when it comes to adopting contactless, they are catching up.
In fact, contactless payments have increased by 150% in the U.S. since March 2019. Customers now demand contactless options, and retailers need to provide them. If they don't, merchants they risk losing sales and loyalty.
Contactless Is Safer and More Secure
Cashless card systems are safer for a couple of reasons. First, having less cash on hand reduces the risks to your employees and business. Second, contactless payments are more secure than magnetic strip cards, which use dated technology and are much easier to clone.
Contactless cards employ a chip and a small antenna to communicate with the card reader. To complete the transaction, the card emits a one-time code to the reader, also known as a token, which doesn't actually contain account details. Mobile payments are equally secure. Case in point: global contactless fraud rates declined 33% between 2017 and 2018, and the technology is constantly evolving to become more and more secure.
Contactless Helps Build Loyalty
The shift to contactless presents a huge opportunity for businesses to increase customer loyalty. Contactless payments, especially in-app purchases, yield generous insights into customer behavior, including transaction times, dollar values, and specific products. Businesses can then use this data to conduct marketing, provide personalized recommendations and offer special promotions and discounts.
Starbucks mobile app, for example, accounts for 40% of the company's sales and is a key component of its digital strategy. Cash payments limit potential customer engagement and are a dead-end in terms of customer insights.
Don't Miss Out
Even after the pandemic-related dangers of handling cash and touching payment terminals are but a distant memory, contactless payments will remain entrenched and continue evolving and gaining steam. The U.S. is finally catching up to the rest of the world when it comes to embracing touchless payments and has room to run.
If you're a late adopter and looking to get in the contactless game, get in touch with Sekure today, and we'll help you find the right contactless solution for your business.